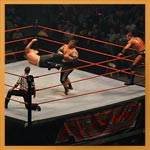 All the recent hubbub surrounding the possible demise of the Delicious social bookmarking service inspired me to get serious and consolidate/organize several years worth of bookmarks scattered across all over the place. The biggest payoff is that I'm discovering a bunch of stuff I never got around to posting. Here's an oldie but a goody that illustrates an interesting way to deal with a no-show speaker or any other sudden, unexpected lack of content.
The room was already filling up, and the other session slotted that morning wasn't nearly as popular – virtually everyone was attending that session. The speaker wasn't going to be able to give the presentation – no problem, I thought, and I told Jennifer to go and get the slides from the sick speaker, and I would volunteer to give the presentation. Now at this time I was still strictly a Notes client developer, and I had done very little Domino development at all. Jennifer contacted the speaker to get the slides, and that's when the hammer fell – he didn't have a slide deck for the presentation. Nothing.

Oh crap.
You can read the whole story here.